Our comprehensive and fully customizable product offerings support both manual and automated workflows, providing easy to read results in approximately 2.5 hours.
| | |
| --- | --- |
| | Flexible, turnkey COVID testing solutions for low to mid-volume CLIA labs |
| | Flexible sample volumes and volume-based discounting |
| | Eliminate backorders and supply-chain issues |
| | Plug and play with existing reagents and equipment |
Explore our testing portfolio
RNA extraction
The advanced kit is designed for manual testing in small laboratory spaces for low testing volumes. Each kit allows for extraction of 96 samples.
The automated kit is ideal for mid-volume labs with limited personnel. With options to run 32 or 96 samples per batch, our automated extraction instruments fit your testing capacity needs.
Advanced isolation
kit

Reagents & spin columns
Automated isolation
kit

Plates & beads
GeneCount® E-32 auto extraction instrument

32 -sample capacity
GeneCount® E-96 auto extraction instrument

96 -sample capacity
qPCR testing
The Q-16 qPCR Instrument is lightweight and fully portable with the field case provided. Assess up to 16 samples in 2.5 hours from sample collection to result interpretation.
The Q-96 qPCR Instrument has an easy-to-use touch screen interface and can run up to 96 samples.
GeneCount® qPCR assay
kit
96 samples
Primer/reagent mix
Positive & negative controls
GeneCount® Q-16 qPCR Instrument

16-sample capacity
GeneCount® Q-96 qPCR Instrument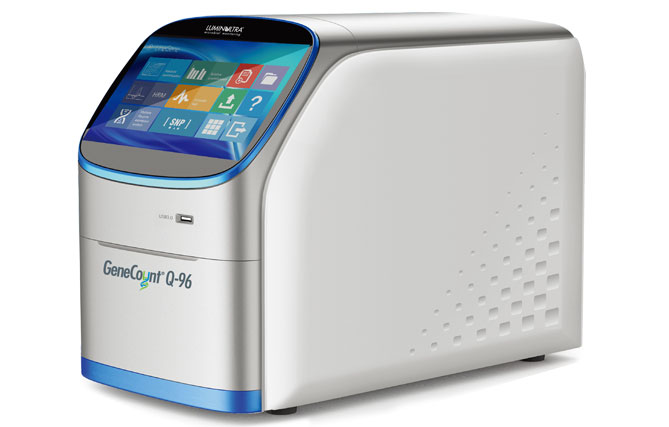 96 -sample capacity
Compliance statements
The LuminUltra GeneCount® COVID-19 RT-qPCR Assay Kit has completed the Section IV.C notification process under FDA's "Policy for Coronavirus Disease-2019 Tests During the Public Health Emergency (Revised)" and has not been reviewed by FDA.
Health Canada has granted an Interim Order authorizing all devices included in the submission, to be imported, sold and advertised in Canada, for the duration that the Interim Order is in effect.
Additional application pending with the European Union for CE IVD.
All tests must be conducted in accordance with the local laws and regulations.